Madonna del Sasso, Lucarno, Switzerland
Meher Baba's visit to the chuch and sanctuary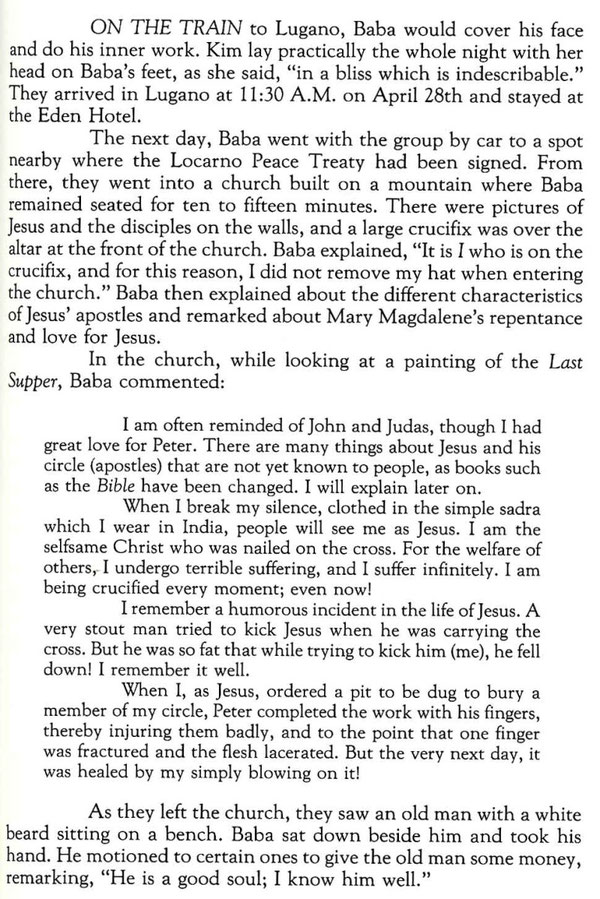 Madonna del Sasso, Cardada and Cimetta
The sanctuary of Madonna del Sasso in Orselina above the city is the principal sight and goal of pilgrimage in the city.
The founding of the sanctuary goes back to a vision of the Virgin Mary that the Franciscan brother Bartolomeo d'Ivrea experienced in the night of 14/15 August 1480. The interior is highly decorated, and a platform gives a magnificent view of the city.
A gondola runs from Orselina to the top of Cardada (el. 1,340 m (4,396 ft)), and a chair lift goes further to the top of Cimetta (el. 1,671 m (5,482 ft)).
Most striking of all Locarno's sights is the Franciscan Santuario della Madonna del Sasso church, an impressive ochre vision floating above the town on a wooded crag (sasso means rock) and consecrated in 1487 on the spot where, seven years earlier, the Virgin had appeared to Brother Bartholomeo da Ivrea from the San Francesco monastery in the town.
The twenty-minute walk up through the lush ravine of the Torrente Ramogno and past a handful of decaying shrines, is atmospheric enough in itself; or you could take the half-hourly funicular from just west of the station to Ticino's greatest photo-op, looking down through the palms to the sunlit arcaded main front of the church and glittering blue lake behind.
Within the complex is a small museum of icons (Easter–Oct Sun–Fri 2–5pm; Fr.2.50), but the church sanctuary is the focus of all the pilgrims' attention. On the way through the complex you'll pass several striking terracotta sculpture groups of biblical scenes. The low, Baroque interior of the church features a number of paintings, two of which stand out: Bramartino's emotionally charged Fuga in Egitto (Flight to Egypt, 1522) and local artist Antonio Ciseri's Trasporto di Cristo al Sepolcro (1870). The statue of the Virgin on the high altar was sculpted for the church's consecration by an unknown artist. By the doorway are dozens of votive offerings from pilgrims giving thanks for the intervention of Mary in their daily lives.