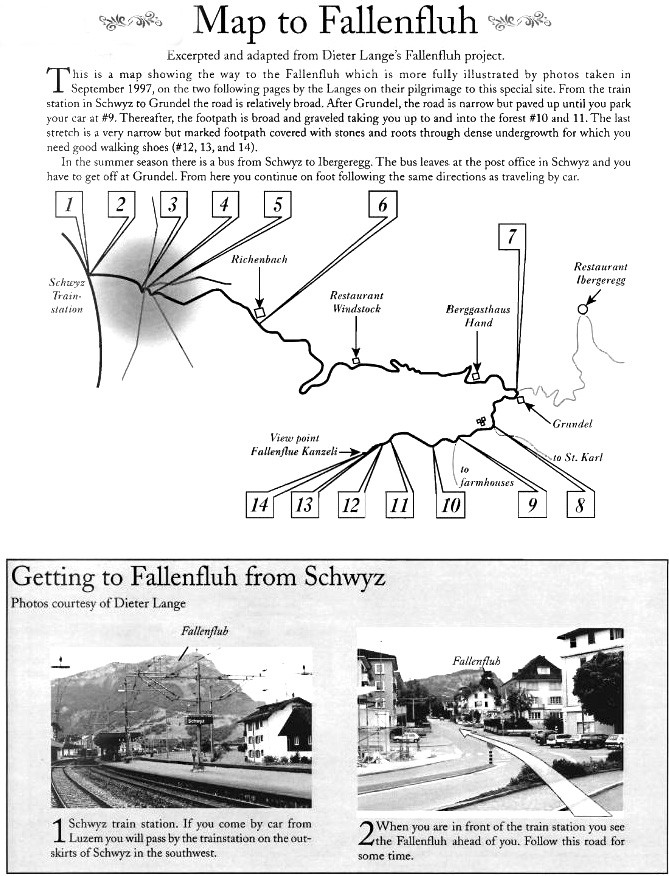 Baba and his companions arrived in Basel, Switzerland, on the 6th of July at five-thirty in the morning. Baba got off to have a bath and shave in the station's restroom, since he would have no time once he reached Zurich and would be too preoccupied meeting people. Boarding the train again, they arrived four hours later in Zurich where they were met by Walter Mertens who drove them twelve kilometers out of the city to Bunishof, his house in Feldmeilen near the lake where Baba and the mandali had stayed two years before. Walter's wife, Hedi, was joyously waiting to receive Baba at the house.
Anita de Caro, living in Zurich, was also there. Baba had instructed Rano, Nonny and Ruano to come from Paris, Margaret and Mabel from London, and Enid Corfe also came from Italy. They stayed at the nearby Hotel Raben, since there was no room for them in the Mertens home.
Before coming to Switzerland, Baba asked the Mertens to find a quiet, yet free and lofty, place where he could spend a day in seclusion. Their friend Meinrad Inglin, a writer and hunter from the town of Schwyz, showed them the beautiful mountain area called Fallenfluh (meaning Falling Rock), and they thought it was suitable.
On the afternoon of July 7th, Baba went by car with the Mertens, Norina and Anita to inspect it. Baba was led to the edge of a cliff which overlooked a beautiful vista of the Alps, farmland and cow herds in the valley, and the town of Schwyz near a great lake. The area was located in the heart of Switzerland. Fallenfluh was well protected by a wild, virgin forest and Baba could be assured of remaining absolutely undisturbed. Baba approved of the spot atop the mountain and they returned to Zurich at seven that evening.
They crossed the Lake of Zurich at Rapperswil and then drove over the Sattel Pass, arriving in Schwyz after two hours. Meinrad Inglin joined them there to lead the way to Fallenfluh. He had to stand on the back luggage rack as they slowly drove up the mountain. The winding, stony road was narrow and rough, partitioned with frequent wooden gates for the purpose of keeping the cows in the pastures. They had to keep stopping to open and shut these gates, as they ascended.
Finally they reached a forest road junction where Baba and the men got out of the car. The men loaded the luggage upon their shoulders and Inglin guided them to a place not far from the mountain edge chosen by Baba for his seclusion. Here, Baba, Adi Jr., Kaka, Chanji, Tod and Walter had breakfast; Baba distributed tea, bread, butter and fruit. Meanwhile Inglin had walked back to the junction, and Hedi and he drove back to Schwyz where she was to rest at his house. Baba had instructed Hedi to return to the junction at seven o'clock that evening to pick them up.
After eating, Baba gave instructions to the four men  concerning his seclusion: "It may be an hour later or earlier than seven o'clock; it all depends on when the work is finished. Your duty is to stay here on watch for two hours each. Kaka should come with me and stay a hundred yards away. All of you should fast and not even drink water during the period of my seclusion. You can rest if you like after your turn is over and talk, but not loudly."
Lord Meher Volume 6, Page 1899