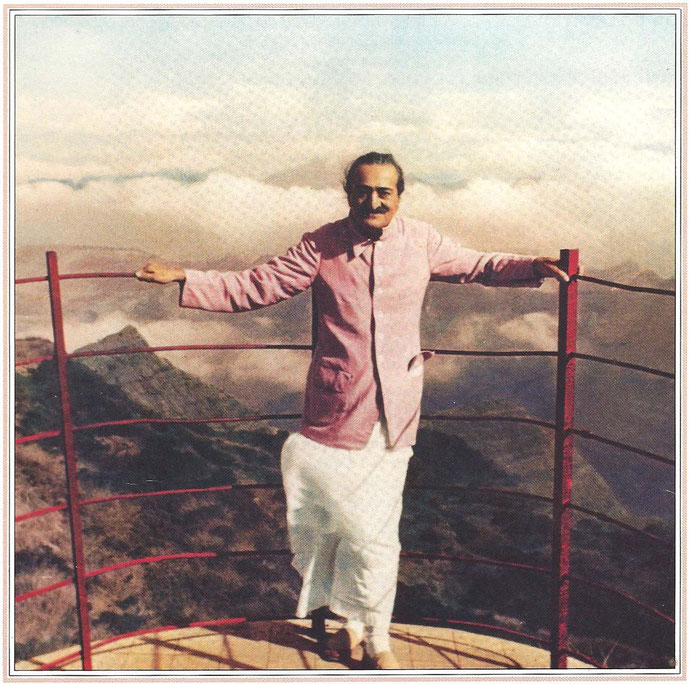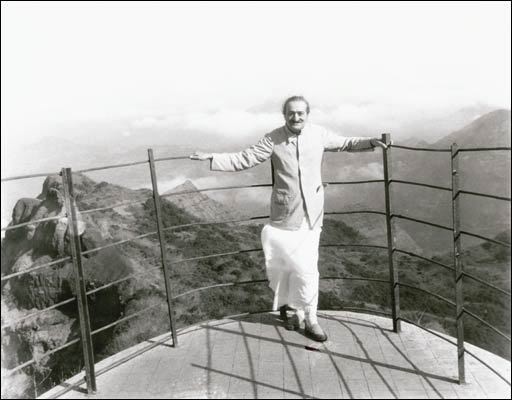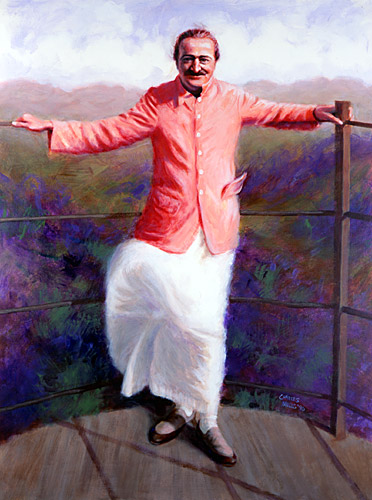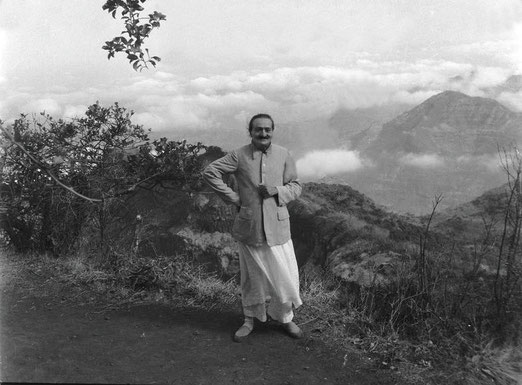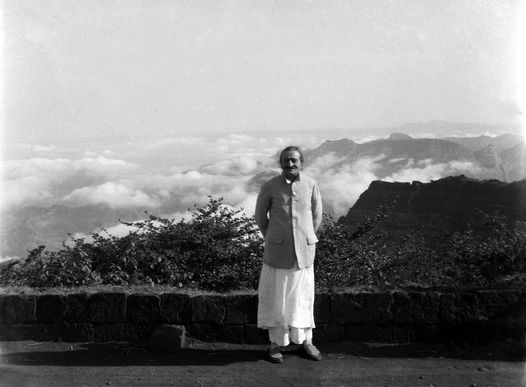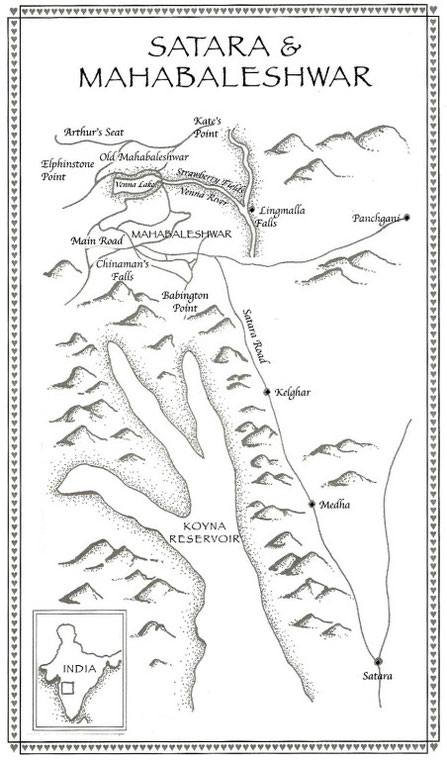 Meher Baba was in seclusion for 100 days in this hut, in the grounds of the Aga Khan's estate.
Photo was dated 13th Febuary 1951.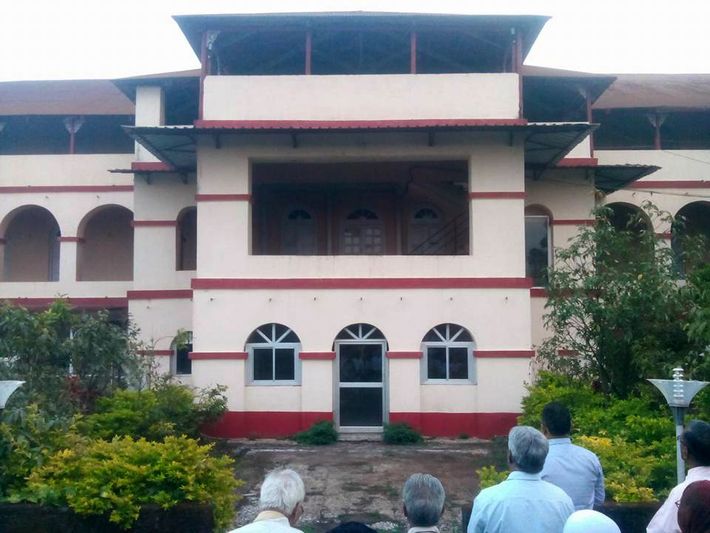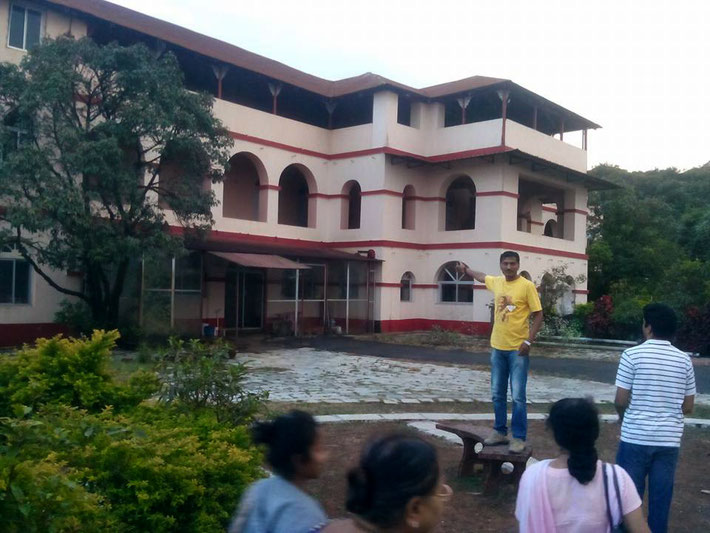 13th February, 1951
Baba in His room at the Aga Khan's Palace in Mahableshwar.
Baba has suede sewn on the bottom of His socks.
These images were taken during Baba's 100 days of seclusion.
Mahabaleshwar
From Wikipedia, the free encyclopedia
Mahabaleshwar (Marathi: महाबळेश्वर) (
pronunciation (help·info)) is a city and a municipal council in Satara district in the Indian state of Maharashtra. It is a hill station located in the Western Ghats range. With one of the few evergreen forests of the world, it served as the summer capital of Bombay province during the British Raj.
Geography
Mahabaleshwar is located at 17°55′N 73°40′E / 17.92°N 73.67°E / 17.92; 73.67.[1] It has an average elevation of 1,353 metres (4,439 ft).
Located about 120 km (75 mi) southwest of Pune and 285 km (177 mi) from Mumbai, Mahabaleshwar is a vast plateau measuring 150 km2 (58 sq mi), bound by valleys on all sides. It reaches a height of 1,438 m (4,718 ft) at its highest peak above sea level, known as Wilson/Sunrise Point.
Mahabaleshwar comprises three villages: Malcolm Peth, Old "Kshetra" Mahabaleshwar and part of the Shindola village.
Mahabaleshwar is the source of the Krishna River that flows across Maharashtra, Karnataka and Andhra Pradesh. The legendary source of the river is a spout from the mouth of a statue of a cow in the ancient temple of Mahadev in Old Mahabaleshwar. Legend has it that Krishna is Lord Vishnu himself as a result of a curse on the trimurtis by Savitri. Also, its tributaries Venna and Koyana are said to be Lord Shiva and Lord Brahma themselves. An interesting thing to notice is that 4 other rivers come out from the cow's mouth apart from Krishna and they all travel some distance before merging into Krishna. These rivers are the Koyana, Venna (Veni), Savitri, and Gayatri.
 

Tourism
Today, Mahabaleshwar is a popular holiday resort and honeymoon spot, and an important pilgrimage site for Hindus. It is the site of Mahabaleshwar Temple. Many tourists visit nearby Panchgani. After the construction of a new highway, it is only a five-hour drive from Mumbai. Mahabaleshwar is also known for the honey and strawberries produced here. One can visit strawberry farms to enjoy the real flavour of the fruit. It is said that the climate of Mahabaleshwar is ideal for strawberries and mulberries. One can also get a taste of "Strawberries with Cream" (season:Jan -Feb) or "Mulberries with Cream" (season: April-May).
The Venna lake is one of the major tourist attractions of Mahabaleshwar. The lake is surrounded by trees on all sides. A late winter evening boat ride through the slight fog is well appreciated. Tourists can enjoy a boat ride over the lake or a horse ride next to the lake. A number of small eateries line the banks of the lake. The Mahabaleshwar city market and the S.T. bus stand is about 2KM from the lake and makes for a nice walk during the day. Most tour operators include the Venna lake in their tours. Most buses, private vehicles will stop at the Venna lake on their way to Mahabaleshwar on request.
With another popular and scenic hill resort Panchgani in close vicinity (about 20KM), most tourists often visit both places together. The 'Table-Land' phenomenon of nature at Panchgani is breath-taking.
History
The first historical mention of Mahabaleshwar dates back to year 1215 when the King Singhan of Deogiri visited Old Mahabaleshwar. He built a small temple and water tank at the source of the river Krishna. Around 1350, a Brahmin dynasty invaded this area. In the middle of the 16th century the Maratha family of Chandarao More defeated the brahmin dynasty and became rulers of Jaoli and Mahabaleshwar, during which period the temple of Old Mahabaleshwar was rebuilt.
In the 17th century Shivaji took over Jaoli and Mahabaleshwar and renovated the Pratapgad fort in 1656.
In 1819, the British included the hills in the territory of the Raja of Satara. Col. Lodwick (Late General Sir Peter Lodwick) stationed at Satara, in April 1824 with a contingent of soldiers and Indian guides climbed up the mountain face reaching what is now known as the Lodwick Point.
Starting with Sir John Malcolm in 1828, a succession of them from Elphinston, Arthur Malet (for whom the seat at "Point Arthur" is named), Carnac, Frere and many others became regular visitors.
Present day Mahabaleshwar came into existence in the year 1829-30. In old records it is mentioned as Malcolm Peth, but in practise today it is known as Mahabaleshwar.
Added to the scores of magnificent scenic "points", the perennial springs, streams, and waterfalls of Mahabaleshwar plateau, with its year round superb climate, drew the English and others to Mahabaleshwar like honey bees to sweet nectar. By the end of the 19th century it had become an attractive popular hill station of world renown.
Raj Bhavan, the Summer residence of the Governor of Maharashtra, is also located here.
Demographics
As of 2001census,[2] Mahabaleshwar had a population of 12,736. Males constitute 55% of the population and females 45%. Mahabaleshwar has an average literacy rate of 78%, higher than the national average of 65%: male literacy is 84%, and female literacy is 71%. In Mahabaleshwar, 11% of the population is under 6 years of age.
India
Location of Mahabaleshwar
You can reach Mahabaleshwar by taking MSRTC or Private Luxury Buses from Mumbai, Pune, Sangli and Satara. National Highway NH4 is the nearest National Highway to reach Mahabaleshwar.
Nearest Railway Stations
You can reach Mahabaleshwar by taking cabs or private cars from the above railway stations.
Nearest Airport
Pune - 120 km

Mumbai - 290 km