MAHARASHTRA STATE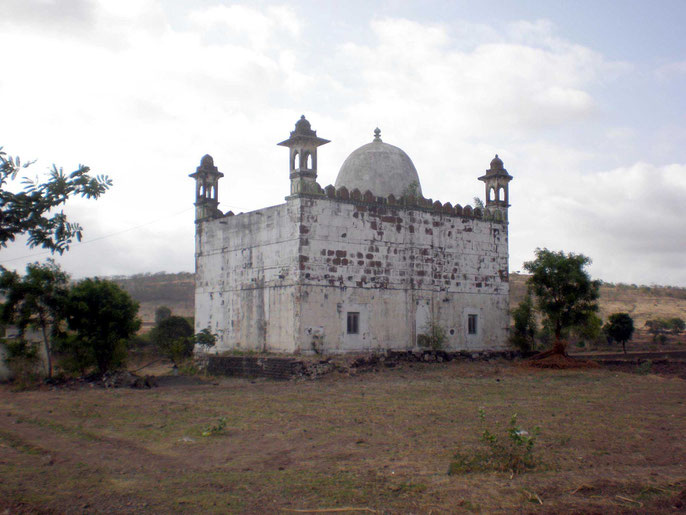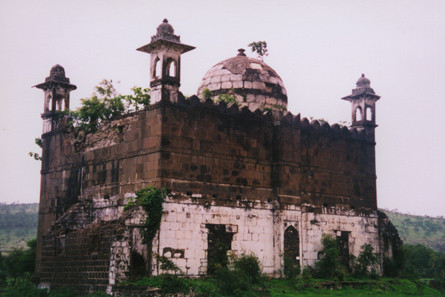 1951 - New Life period
On the morning of the 21st, Baba traveled to Toka by bus with Eruch, Pendu, Baidul and Gustadji. They reached Ghodegaon by two o'clock. There they rested for two hours in the PWD (Public Works Department) storehouse. The men noticed a truck owned by Sarosh, and the driver offered them a ride. After loading the baggage, Pendu and Baidul left in the truck at six o'clock. Baba had already left on foot with Eruch and Gustadji. After four miles, the truck caught up with them, and they took their seats in it, reaching Imampur at nine that night. There they stayed in an abandoned mosque which had formerly been a dak bungalow.
During the night, throughout this journey, each man had to keep watch by Baba's side for two hours. A memorable incident took place at this mosque while Eruch was on watch. The old mosque was in a dilapidated condition, surrounded on all sides by uncut grass. During Eruch's vigil, a noise was heard, and Baba inquired where it had come from. It was dark inside, and they had no lanterns. Eruch was striking matches to be able to read Baba's hand gestures. He listened to the fluttering sound and peered about. In a crevice in the wall, he found a nesting bird. He told Baba, and Baba asked him to capture it and throw it out. Eruch was about to do so, when Baba clapped and gestured, "To have instructed you to have the bird thrown out in the middle of the night was an act of great cruelty, for which I repent."
In the morning Baba reflected upon the incident, remarking to Pendu, Gustadji, Baidul and Eruch, "There is only one way to atone for this inhuman act, and that is for you men to spit on me and beat me with your chappals!"
Baba then removed his sadra. Accordingly, all spat on Baba and struck him with their sandals — the worst insult in India. Pinching his own ears in atonement, Baba observed, "This is a lesson to me for my cruelty; henceforth, I will never be cruel."
Age wept to hear these words. "What a lesson and what Perfection in the role of a seeker! Generations of devotees will shed tears of blood for their Beloved when they remember this incident of repentance at Imampur!"
On 22 November, in Imampur, Baidul cooked rice and dal, and Pendu arranged for a cart to carry their luggage.
The following morning at nine o'clock, with the luggage in the bullock cart, they left Imampur on foot for Meherazad. That day, Baba wore his white kafni and green turban.
On Tembi Hill near Meherazad, Padri had repaired the two small cabins on the top, which Baba had used in his seclusion there in 1947. According to Baba's wish, no one was to see him. Only Mehera and Mani had permission to meet him halfway up the hill. By 22 November, the women were already back in Meherazad, as were the remaining men companions.
After walking ten miles from Imampur, Baba reached Meherazad in the afternoon of Friday, 23 November, 1951, with Eruch, Pendu, Baidul and Gustadji. Going round the back of the Meherazad buildings, without setting foot in Meherazad itself, Baba began climbing the hill. As instructed, Mehera and Mani met him halfway up. The four men companions disappeared on the other side of the hill to avoid seeing Mehera.
Baba conveyed to Mehera and Mani, "My health is good. Although we had to pass through some hardships on the way from Hyderabad, my health remained unaffected. We walked almost 200 miles, and did the rest of the journey by bus and train. We crossed the confluence of the Pravara River in Toka, and stayed in a mosque in Imampur. Once, we walked 20 miles without a break." After telling them about his journey, Baba continued his ascent up the hill, and Mehera and Mani returned to Meherazad.
Courtesy of Lord Meher ; Bhau Kalchuri - Pages 3017-8