Sheriar Moondegar ( Mundegar ) Irani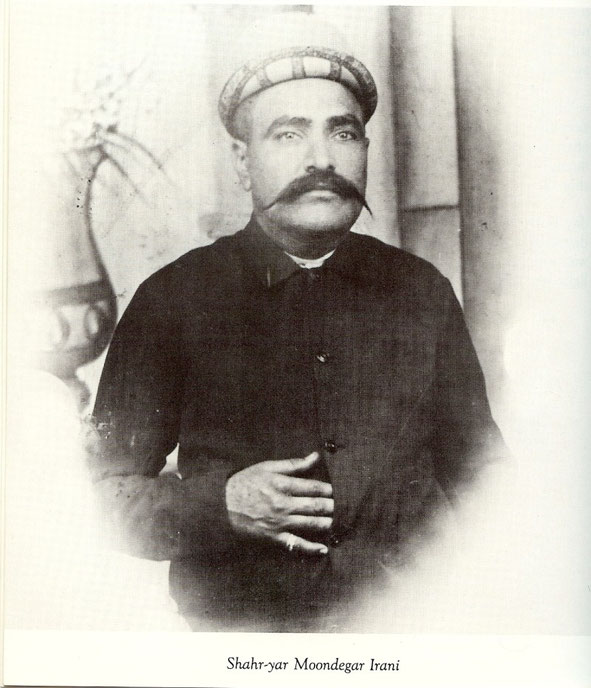 Born : 21st March 1853 - Khooramshar, Iran
Died : 30th April 1932 - Bombay, India
Burial  Location : Poona Parsi Tower of Silence
** there is a grave both both Sheriar & his wife Shireen in Upper Meherabad, which contains worldly items of theirs, but not their bodies.

Nationality : Iranian / Indian
Married:  1892.   His wife was - Shireen Dorab Irani
Meher Baba's ( Merwan Irani ) father.
His faher was Moondegar Irani - he died in 1858
Moondegar had 3 children - Sheriar ( Shahr-yar ) - Piroja  , married Rustom Irani. She died 1917
He was 39 & Shireen was 14 when they married.

They had 9 children in all.
The 1st born was Jamshed and Shireen was only 15 y.o.at the time.

He was raised by Shireen's sister - Dowla & her husband Faredoon N.Irani
Merwan was the next born a year later in 1894.
Meher Baba's father SHERIAR IRANI (called

Bobo

by his children) died in 1932. Baba told his brothers Beheram and Adi,



'Death is necessary and is like sleep. When a person awakes from sleep, he finds himself as he was. However, after death, a person finds himself in a different atmosphere and in a different body. Both death and birth are dreams. Where is the sense in being merry or miserable for the sake of a dream? Bobo's death, however, is not sleep. He has gone beyond it and is awake forever. He is emancipated, and has been given Mukti - Liberation.'
LM5 p1603-1604