ARCHITECT, AMATEUR PHOTOGRAPHER  & FILM-MAKER

Hasan was born in Ankara, Turkey and completed his high school education at Levent Lycée, Istanbul. In 1973 he went to study language at Strasboug, France. He then moved to Marseilles to study artichecture. Shortly afterwards, he met Yvonne Antoni in 1978 who had recently moved from Paris. They started soon the Meher Baba group meetings.
In 1981 he received his graduate degree from Unité Pédagogique d'Architecture de Luminy-Marseilles and returned to Turkey. He worked in various offices in France and Turkey.
In 1985 he won, along with Melih Birsel and Nezih Tekinel, for the Üstay Centre shopping and office complex competition.
In 1997, he was appointed site and project manager for the construction of the Archives building in Meherabad, India. By September 1997, he had started working on the site.
Hasan recalls : It was very beginning with the excavation by hand. There were 40-44 men and women doing this job and living on the site with their children.  After 3 months due to my visa duration I left India and returned to Istanbul, Turkey. During this period of time, we excavated the whole ground where the building will be sit and the foundations of the foot. Then came to start concrete works for foot foundations and their water insulation with tar.....etc.

Soon afterwards, Ted Judson announced to me that Meheru wanted to talk with me about another project to design, so Ted took me one day to Meherazad to Mandali Hall where in the middle of the room there were a small table and 4 chairs!
There is no words can explain my excitement at that moment, in front of Baba's Chair and in His meeting room!!!! Not only that,but for the first time in private I was going to be face to face with a Mandali.

So she talked about the necessity of a new archives building in Meherazad to protect Baba's personal materials which were stored in the upper floor of the Meherazad Residance. She asked me if I could design.
My last month in India passed with designing on this new project and working on the main site. 
It took some years to raise the money to build the Archives building. Finally the ground-breaking took place on the 14th November 2002 at 09.30 A.M. 
on Guruwar Day in the presence of Meheru, Bhauji, Dr. Goher, all the mandali, trustees,residents and other people who were involved in this project. I was in Istanbul at the time on family matters.

From time to time, I flew to India to supervise the construction and finalize the details...etc.

Hasan Selisik was the architect of the Archive building and health unit he designed in Meherazad, India.
Hasan stated : I was not a site & project manager, only a helper to the main architect Ted Judson on the site.
Also, with Bal Natu, I was interviewed not at Meherabad hill but at Meherazad in his room.
He joined Ark Limited in 2000.
Hasan has also made many wonderful audio-visual presentations on YouTube.
The following video of photographs are on Don Stevens.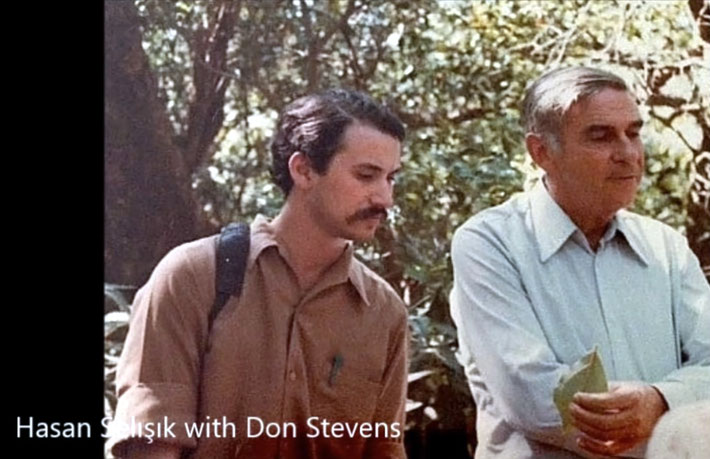 Traveling through Hamirpur in 2019 and the Amartithi of 2019.
A film of photos depicting life in Istanbul in September 2019

A short film of photos depicting life in Istanbul
The following is Hasan Selisik's account that he told Bal Natu which he recorded in July 2000 at Meherabad Hill. It was later published in Bal's book "Tales of Meher Baba's Love". 
It tells how both Hasan and his older sister - Ciğdem Selişik Housman came to Meher Baba but also how Yvonne Antoni came into his life later on. He also tells how both Yvonne and her husband Robert Antoni came to Baba as well.
Ciğdem Selışık Housman
The book pages were courtesy of Hasan Selisik.
Book details :
Compiled by : Bal Natu
2001
Published by : Madhav Natu for Friends of Bal Natu, Ahmednagar, India
187 pp. Printed by : Meher Mownavani Publications, Hyderabad, India
Click the names to visit their respective webpages. Yvonne Antoni & Robert Antoni
Archives Building. Meherazad, India