Deborah Ash(e)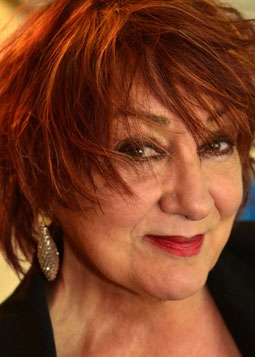 AMERICAN
SINGER SONG-WRITER & ARTIST

"Diva with Heart and Soul"
Ms. Deborah Ash is one woman who loves to sing, her voice in range and 
color like cellophane catching fire.
Ms.Ash has been singing, performing and writing songs from an early 
age. Ms. Ash's relationship to Gospel, Blues, Jazz and RnB began in the fourth grade 
in her home town of Buffalo,New York when her 4th grade music teacher 
introduced southern spirituals as part of the curriculum. The first blues song that touched her soul was the longing she felt in the singing of "My Joe" from Carmen Jones. Deborah's mother and father both loved to sing and and had very good voices. Her mother would play the piano and they would sing songs like  Danny Boy,Night and Day,Over the Rainbow, Autumn Leaves, and songs from west side story around the house and introduced her to Mario Lanza, Judy Garland,Deborah was a singer songwriting performer and member of the challenging myths of racism  performance group from Bennett Highschool the " Interracial Researchers". which toured New York state and Pennsylvania.
 Ms. Ash draws inspiration from many sources: 
Nina Simone, Aretha Franklin, Billy Holiday, Sarah Vaughn,Stevie 
Wonder, B.B.King, Etta James, Linda Hopkins, The Rolling Stones, Beatles,Taj 
Mahal,Weather Report, Keth Jarrett, Madonna,Pharoah Sanders, Grover Washington,Elvin Jones,Stan Scelest, Luther Vandross,Bach.Motzart,Cole Porter,
Gershwin,Rumi,Usher,Dolly Parton, Red Hot Chili Peppers, Miles Davis,
Ms Ash has performed on stage with Joe Cocker, Elmo Witherspoon,Bonnie 
Raitt,Bad Boy Johnson,Billy Mitchel,King Errison,Mickey Champion, Linda 
Hopkins,Barbara Morrison,Rick James,Harold Bennett, Genell 
Hawkins, Michael C. Ford, John Entwistle, StanlyClark, She has sung in India with Qawalli musicians and participated in the University of Buffalo's Avante Garde 
Composer-In-Residence program and worked cross town performing the 
Blues with artists Elmo Witherspoon and the All Stars in her hometown. 
In Buffalo, N.Y. Ms. Deborah performed and composed songs as part of 
the exciting team of Ash & Campagna, which included her then husband. 
Michael Campagna.