Lawrence "Hermes" Reiter

Baba and Hermes, as told by Hermes....
My birth name is Lawrence Reiter, nickname or tradename "Hermes." At the age of 20, I first heard of Meher Baba in New York City in November 1966. My first meeting was Baba's birthday celebration in NYC at the Brabazon Plaza Hotel in February 1968. After being released from the army during the Vietnam War in 1968, I came to the Meher Center for the first time during July–August 1969. Later returning that winter I spent four months at the Center, and during that period fasted on just water and one cup of coffee for about eight weeks straight. It was during this fasting period that Elizabeth Patterson and Kitty Davy first exposed me to the numerous photographs of Meher Baba's life from their albums. Little did I know why they did so.

 

In January-February 1973 was my first pilgrimage to India and attended my first Amartihi, which was then for only one day due to shortage of water. It was in February that one day at Meherazad I walked back to see Sister Mani at her office. She later revealed to me that she had been very worried about her brother Beheram's failing health and wondered who would be responsible for printing Baba's photographs, since that was Beheram's main work for Baba. She remembered how she expressed these pressing concerns to Baba during the late 1960s before he dropped the body. Baba had assured her that he would "send someone to help her" or "someone would come along to help her." As Mani was thinking these thoughts and remembering what Baba what had indicated, I appeared and walked up to her at her office desk and asked: "Mani, is there anything I can do to help you with Baba's photographs?" Mani was awestruck because she had been thinking exactly about this burdensome problem of help to her. Mani felt that I, Hermes, was that "someone" Baba had sent or that had "come along to help." From that day onward in February 1973, Mani and I became very close and she would always refer to me as her "little brother." That it how my work with Meher Baba's photographs really began.

In 1975, I began to buy original negatives from various photographers in India, Europe and America; that lasted until 1981. By 1975, Baba's other mandali such as Mehera J. Irani, Padri, Baba's brother Jal, Adi K. Irani, Khorshed, Rano Gayley and Hedi Mertens were very supportive and instrumental in helping me with this work and responsibility to make Baba's photographs widely available; others also helped on various occasions.

People question how I was chosen and how it was possible to produce the over 7,000 page Biography Lord Meher. It was because for over eight years I had thoroughly studied Meher Baba's life through his photographs and could easily visualize almost every period and phase of Baba's life, work and travels, and also could identify most of the persons in the photographs. That is why I believe I was chosen to edit and design the

Biography Lord Meher, though, at first, the mandali did not really believe I would actually accomplish, in Eruch Jessawala's words, such "a Herculean task."

On one occasion, Eruch made a cutting remark about me that I was only interested in Baba's photos. I replied that at least "someone" should be interested. Yes or no? Later, Eruch said that I was right that someone should be interested. So, over the years, I have done what I could afford to preserve Meher Baba's photos 3and have one of the best collections of original negatives and old photographs in the world. I have, for the most part, worked alone.

Reflecting upon the book work: Adi K. Irani told me that after Dr. William Donkin completed The Wayfarers that "his mind was not ever the same;" it was, for the most part, deeply disturbed except when in Baba's presence. It was extremely difficult to get along harmoniously with the other men mandali. Since finishing the Biography Lord Meher I understand what Dr. Donkin's mental disturbance or suffering must have been like, for, in good humor, I have to admit my mind has not been the same since completing the Biography in March–May 2001, after which I suffered a breakdown from mental or nervous exhaustion. Padri had warned to be careful that such work could drive me mad, but my safeguard would be to remember it is all his – Baba's – mischief!

Avatar Meher Baba has stated that in the gross physical or material world a human being can only experience 1% of divinity or God; in the subtle world of prãna – of pure energy – a fully subtle conscious mast of the third or fourth plane experiences 25% of divinity or God; and in the mental world of pure mind a 5th plane wali (friend of God) or 6th plane pir or saint rises to experience 50% of divinity or God. Only in the 7th plane of Reality does a God-Realized Majzoob, Jivan-Mukta or Perfect Master fully experience 100% of divinity or God. So, it is evident there is a world or worlds of difference between the higher and lower states of human consciousness in various human beings' experiences of divinity or God.

After I finished the Biography I gradually came back to the photographic work because what was being made available to people in America was of such poor, inferior quality that I found it not worthy or insulting to Meher Baba's Godhood or divine Avatarhood. For the past 3 years I have been experimenting with the various archival chemicals, known as selenium, sepia and gold chloride and have been learning through my experiments to perfect their use. The photographs on the walls are a mixture of selenium and gold tones. Such archival chemically processed photographs, if properly framed, can last at least 4 to 5 centuries. The basic principle involved is transforming the 100% cotton cloth photo paper into a mineral state with the saturation of the various chemicals. These mineral-based chemicals make the photographs impregnable to atmospheric pollutants and, thereby, protect them for centuries. I have gifted several hundred archival prints to Meherabad for the rooms in the newly built Pilgrim Center in India and they should endure for centuries to come.

 

 

in Meher Baba's Name,

Lawrence Reiter

May 5, 2005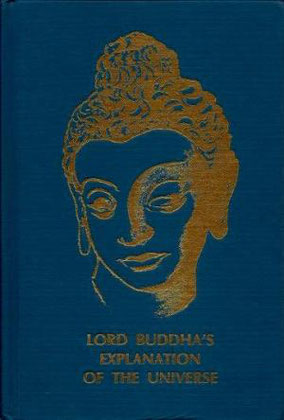 LORD BUDDHA'S EXPLANATION OF THE UNIVERSE
Buddha; C.P. Ranasinghe; Lawrence Reiter
2004
Published by: MANifestation Inc, Myrtle Beach
316p.
Original English translation by C.P. Ranasinghe, edited by Lawrence Reiter