Born : 27th January 1948
Died : 15th September 2021
Married : Andy Lesnik
Children : 2 daughters
AMERICAN
Artist & archivist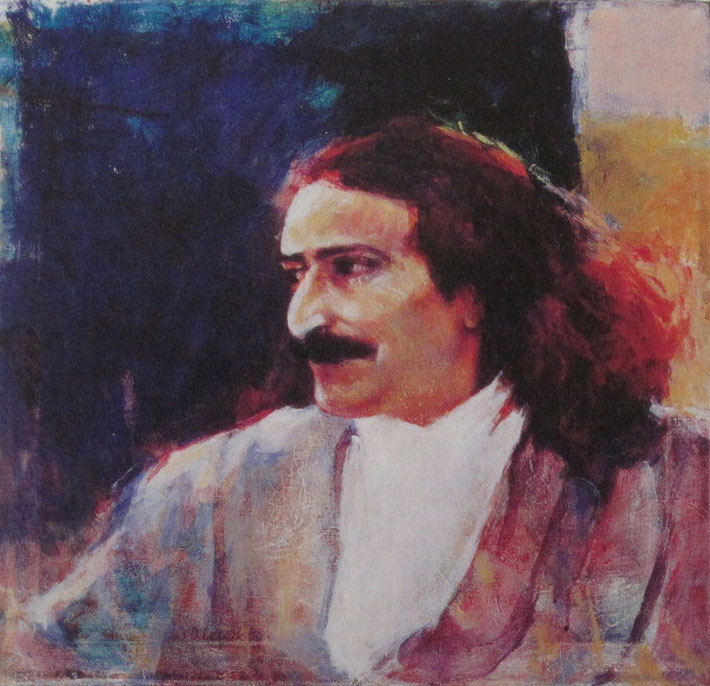 Restoration of the Samadhi's Interior Mural Walls
In 1990 and 1991 Baba's sister, Mani, put into play her long-held intention to restore the murals in the Samadhi. As Chairman of the Trust, Mani often said that though she didn't know everything, she could usually find the right people who had the needed knowledge and skills. And so she assembled a team of dedicated Baba lovers to restore the paintings, in conjunction with restorative work and waterproofing done on the Samadhi exterior.
Painted by artist Helen Dahm under Baba's direction in 1938, the murals had deteriorated considerably by the time Baba dropped His body and was interred in the Samadhi. In 1971 the Trust decided to have the paintings repainted to preserve them. Baba's secretary Adi K. Irani engaged Baba photographer and artist Bhaiya Panday of Ahmednagar for the work. It is Panday's repainted surface that pilgrims viewed for the next 19 years.
By 1990 the rock and plaster surfaces were again showing signs of deterioration. Though Mani appreciated the excellent job Bhaiya Panday had done single-handedly and with limited resources and experience, she felt Helen Dahm's original artistry had been altered. So this time Mani had two goals in mind: to recapture the colors, lightness and style of Helen Dahm, and to preserve the walls against future damage.
Through careful study of photographs made before 1971, and by applying carefully researched methods of restoration and preservation, the team, headed by Rick Flinn and
Dot Lesnik, were able to accomplish Mani's goals, to the best of their collective ability!
For the most part the restorers painted over the Panday surface, but in some areas paint and plaster had to be gently removed. This process, combined with study of the old photographs, led to many corrections and even some new discoveries. Here is a peek at some of the secrets the Samadhi murals hold.
Courtesy of  - https://avatarmeherbabatrust.org/muralThree.php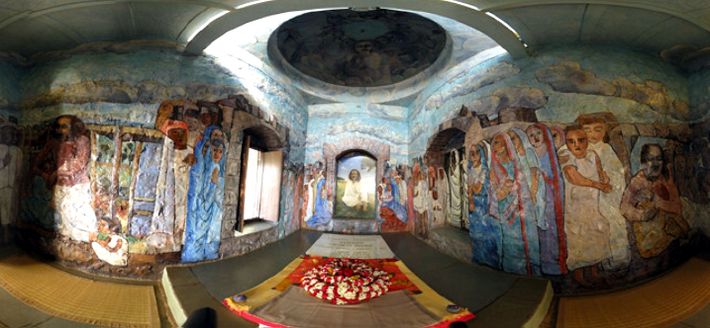 The song in the video, the "Gujarati Arti" or "Bujave Naar," was written by Meher Baba and sung by Jane Brown.
Meher Pilgrim Retreat 'MPR' Tile Wall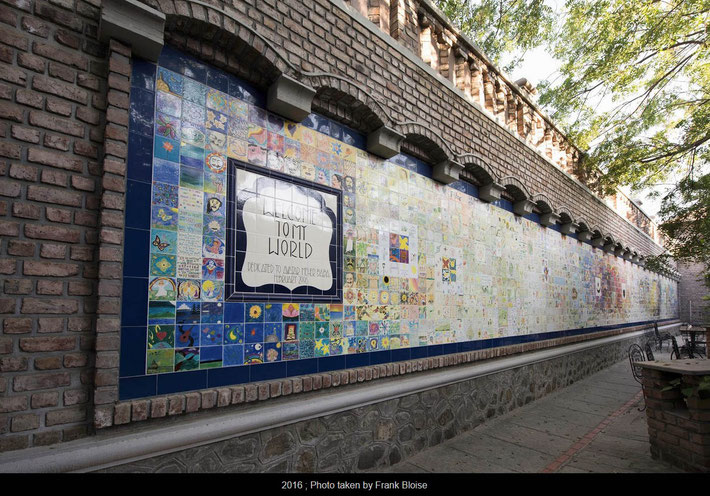 Dot Lesnik supervised the numbering of every tile ( from 17 countries ) for the tile installation at the MPR.
Bill Gannett managed the tiles installation in January and February 2006.