Laurie Adolphus
Born : 1912 - Southampton, England

Died : 1974 - Adelaide, South Australia,  Australia
PAINTER
AUSTRALIAN


Laurie arrived in Australia a a young man in the 1930's and was part of the bohemian set around Sydney, Kings Cross and Kurrajong. A large part of that scene were left political radicals, but Laurie was more of a mystic by nature. He worked as a lone builder, designed and printed christmas cards, built a loom and created large tapestries.
Laurie and his family were living in Sydney's Northern beach suburb of Narrabeen, ( a house that Laurie had built ) at the time of Meher Baba's visit to Australia in 1958.
Laurie had a private meeting with Baba and this had a strong effect. Baba gave him a small stone from Seclusion Hill at Meherazad, which kept in his pocket during all his exams at University later on.

Baba gave these special stones to all men present at the 1958 Sahavas and asked each man to treasure this stone foe the rest of his life.

At the age of forty-five, a sole parent of two young boys, he sat for the matriculation exam, entered Melbourne University and studied psychology. He then had a career as an academic and clinician.

He painted consistently, but did not exhibit nor promote himself as an artist. His portrait of Meher Baba which is  also at Avatars Abode is an excellent painting that captures some essence of Baba's nature.
( see the following painting )
He consistently painted images from his dreams. He called his art style as Mystic Naive.

Throughout his life he had a deep interest in the spiritual, Buddhism, Sufism, Hindu and Christian mystics. He met Meher Baba when he first arrived in Sydney, Australia in 1956 , then later on the Sunshine Coast in 1958.
The above outline of Laurie's life and photograph contributions were provided by Laurie's son Paul.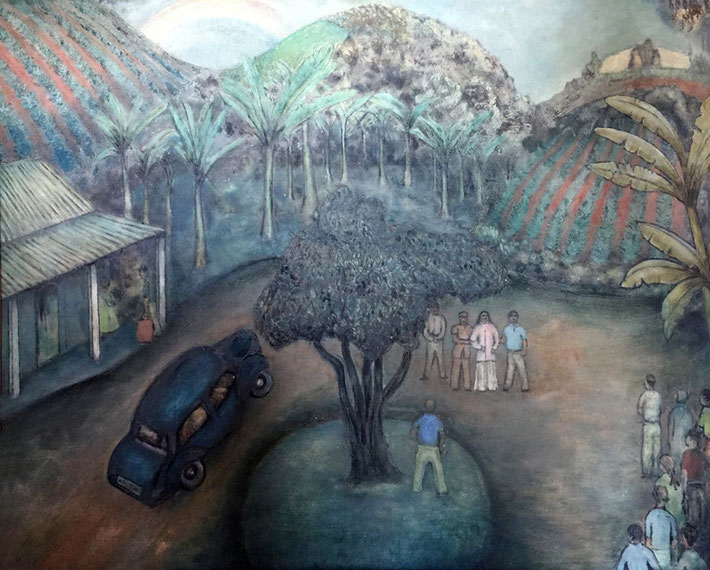 Cynthia Borg ( nee Adam ) recollects that Laurie was a very caring person and parent.
It was this "caring for children" that caused Laurie to say "no" to Baba in 1958 Sahavas at Avatar's Abode in Queensland.
Baba asked everyone present at the meeting to raise his/her hand if not willing to obey Baba 100%. Laurie raised his together with my 2 brothers Noel & Colin. Laurie explained to Baba that hewas very angry at seeing Baba "hurting" young people this meeting by asking them to "walk naked in the streets" or " slit someone alse's throat " and so he refused to obey any of Baba's orders.
Laurie later ran back and begged Baba to be allowed to obey him 100% when he better understood Baba's reasons for this order. He later had a private meeting with Baba.
On an another occassion Cynthia recalls sitting with him in a packed train carriage on their way to Melbourne University, doing his knitting which he stored in an open, old iron basket and conversing about something which had the whole carriage listening intently.