Daulat Sohrab Irani ( Daulatmai )

Born : 1876
Died : 5th November, 1952 - Nasik, India. - 76 y.o. ( 4am of heart failure )

Married :  1902 - Jehangir Hormusji Irani
Children : Freiny ( Piroja ), Mehera and Kersasp (m)

Nationality : Indian
MEHERA IRANI'S MOTHER
Mehera's mother Daulatmai died on the 5th November 1952 at 4am in Nasik of heart failure. She had kept perfect silence since 1933. Lord Meher - Vol.11-12 page 3939, 1st Edition.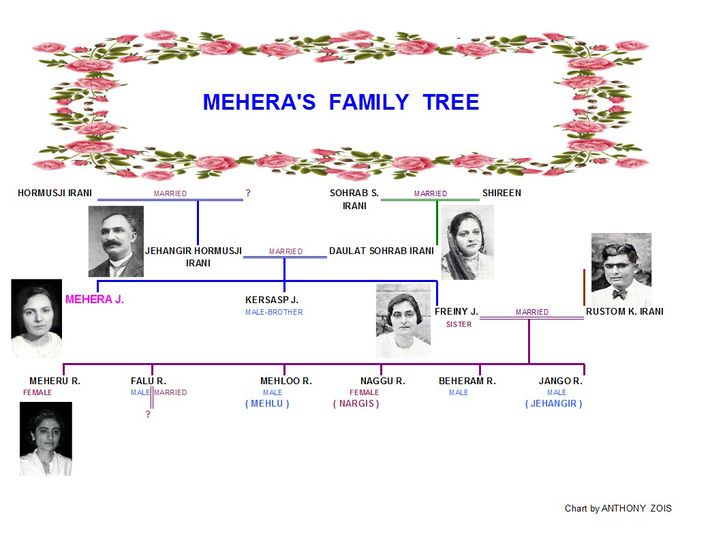 On November 5, 1952, while Baba was in His cabin at Upper Meherabad,
Sarosh informed Him that Mehera's mother, Daulatmai Jehangir Irani, had expired that day at 4 A. M. of heart failure. Daulatmai had kept perfect silence since 1933, and it is said that she had a peaceful end. Baba
said, "My dear Daulatmai will live in me forever, by God's grace. I say
'by God's grace,' because today I am in the state of a devotee."
The question of printing a circular about Daulatmai's death for
distribution among his close women disciples was discussed and agreed to by Baba. Later a tombstone for her was erected in the cemetery on
Meherabad Hill. It reads: "Daulat – one of Baba's dearest lovers.
Observing silence for twenty years."
http://www.meherbabais.org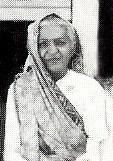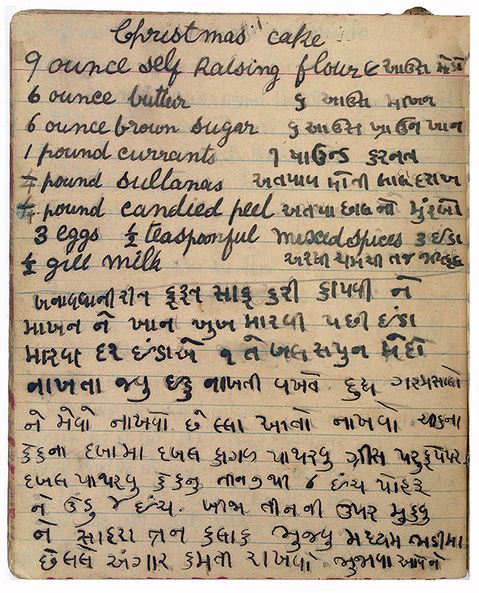 Daulatmai's (Daulat Jehangir Irani, Mehera's mother) handwritten recipe book was carefully kept for many years by Meheru at Meherazad.

This is a page from that book featuring Daulatmai's Christmas Cake recipe.

The recipe is written partially in English and partially in Gujarati. Below is a rough translation of the recipe.

(Note: the recipe should perhaps be 1 ounce currants, 4 ounce sultanas, 4 ounce candied peel. Also, as there is no mention of where to add the 9 ounces of self-raising flour or an exact cooking temperature, the bakers amongst you will have to decide!)

Christmas Cake
9 ounce self-raising flour
6 ounce butter
6 ounce brown sugar
1 pound currants
4 pound sultanas
4 pound candied peel
3 eggs
½ teaspoonfull mixed spices (cinnamon and nutmeg)
1gill (1/4 pint) milk.


Method of making.
Clean the currants (sultanas and candied peel) then chop them.
Beat the butter and brown sugar together thoroughly.
Then beat the eggs.
For each egg one table spoon white flour should be added.
To the egg mixture add the milk, mixed spices, and the butter/sugar mix.
Line the cake tin with two layers of grease proof paper.
Lastly this mixture has to be put in the cake tin.
The tin for the cake has to be 6 to 7 inches of breadth and 4 inches in depth.
Cover the cake tin with a weight.
Steam for 3 and half hours at a moderate temperature then at the last, lower the temperature.
Copyright © Avatar Meher Baba Perpetual Public Charitable Trust, All rights reserved.
Courtesy of : Tavern-Talk Digest, Vol 158, Issue 3