Born :  7th December 1944

Died :  25th August 2019 - cancer
Married : 1. Sandra Nylander - divorced
                2. ?
AMERICAN
James met Meher Baba for 5 mins on 15th April 1966 at Guruprasad, Poona, India.
Jim signed up for the Peace Corp to go to India and he met Baba there in April 1966.
As soon as he met Baba he quit the Peace Corp and came back to the US. He originally was from Denver and knew Rick Chapman I think as far back as High school. After India he went to Harvard Law school and became an attorney, moved to SF Bay Area and became a Sufi. He married Sandra Nylander (sic) I left the order in 1980 and Jim was still there. I lost track of him at that time, but I knew he moved to Washington DC, he and Sandra were divorced and he remarried.
At some point I understand he left the Sufi order, I don't know why. He stayed a Baba lover and was a great help to Hermes. He wrote the book Avataric Advent which Rick Chapman published. It somehow was picked up by some university and used as a book for religious studies, as it deals with the different Avatars. It thus became the highest ever number of books sold for Meher Baba Information, since it became a text book for universities.
Jim passed away a couple of years ago.
Courtesy & thanks to Ursula Reinhart.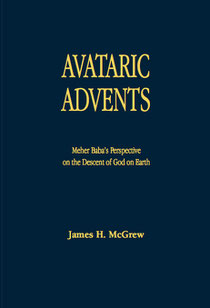 AVATARIC ADVENTS ;

Meher Baba's Perspective on the Descent of God on Earth
James H. McGrew
2006
Published  : Beguine Library
308 pp.

James met Meher Baba in Meherazad for 5 minutes in 1967.