Meher Baba's 1958 trip to Australia
QANTAS : Flight 743/032 
San Francisco - Honolulu - Fiji - Sydney
31st May - 2nd June 1958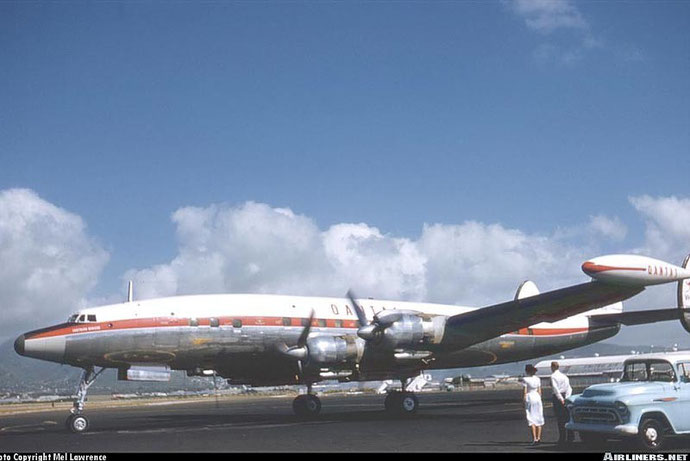 For the 1958 Sahavas in Australia, Baba and the mandali flew from San Francisco on Qantas Flight 743/032, at 11:00 A.M., on Saturday, 31 May 1958. After stopping in Honolulu at 6:15 P.M., where they had a four-hour layover (and a complimentary dinner, courtesy of Qantas), crossing the international date line and again stopping in Nadi, Fiji the following morning at 8:00 A.M. for half an hour (where they had tea), they arrived in Sydney at 3:30 P.M. on 2 June.
Lord Meher Online Edition Page 4420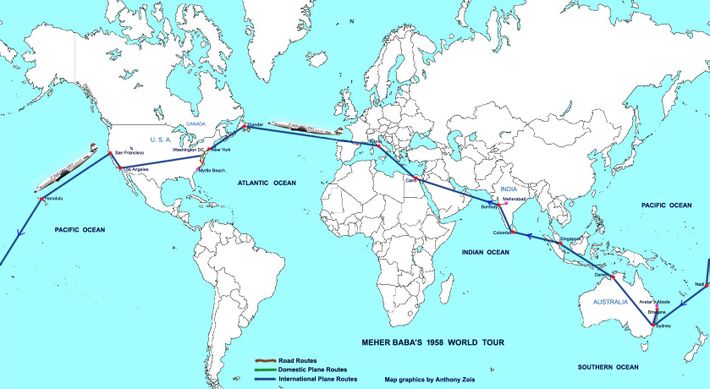 ** The flight to Australia in 1958 by Meher Baba was in the same type of aircraft as he flew the same route in 1956. There is an ommision in the above paragraph from "Lord Meher" that there is no mention of a brief stop on an island between Honolulu and Fiji for refuelling. We can only assume it's the same island of Kanton in the then Phoenix Island group now called the Kiribati Republic. Webmaster
Qantas Lockheed L1049 Super Constellation VH-EAD
Qantas Empire Airways Lockheed L1049 Super Constellation VH-EAD (c/n 4607) in flight above Sydney/Kingsford Smith airport in June 1958. The main runway at this time is 07/25, running from bottom left to top right in this photo. Below the aircraft, the Cooks River has been diverted (it used to run parallel to the shoreline and exit near where the nose of the aircraft is), but the extension into Botany Bay of the cross runway, 16/34, has not yet commenced. Above the aircraft is the terminal area, with the QEA maintenance area to the left.
VH-EAD, delivered as an L1049-E-55, was acquired by Qantas on 26 November 1955 and named Southern Dawn. It was modified to L1049E-01-55 standard, and later to L1049G. It was disposed of to Lockheed on 15 March 1960. It is seen here with a white uppper fuselage, red cheat-line and titling, and natural metal lower fuselage and wings.
Qantas Lockheed L1049G Super Constellation VH-EAO
Lockheed L-1049G-82-153 Super Constellation VH-EAO Southern Aurora (c/n 4679) taxying at the Qantas Empire Airways (QEA) maintenance area at Sydney/Kingsford Smith Airport in the late 1950s. These aircraft, powered by four 3250 hp Wright R3350-TC18-DA3 Turbo Compound engines, operated with 10-12 crew and up to 39 passengers in all First Class configuration, or 27 Deluxe and 30 Tourist seats, or 60 seats in an all-Tourist configuration. Cruising speed was approximately 335 mph. The Super Constellation represented the pinnacle of piston-engine airliner development and, in some eyes, the epitomy of beauty in design.
VH-EAO was delivered to Qantas on 28 October 1957. Its delivery flight, under Captain A.A.E. Yates, was the first non-stop flight by a commercial aircraft from Honolulu to Sydney. On 14 January 1958 VH-EAO was one of two Super Constellations to depart Melbourne/Essendon on Qantas' inaugural round-the-world service. VH-EAO departed Australia via the 'Southern Cross' route across the Pacific, carrying a special philatelic mail - cick here to see come air mail covers carried on this flight.
When QEA bought Lockheed Electras, VH-EAO was traded back to Lockheed as N9722C on 13 October 1959 with a total flying time of 5,874h 9min and 932 landings racked up in two years of line-flying. However, just on a year later, with the Electras temporarily grounded for wing modifications, the aircraft was leased back from Lockheed on 18 August 1960 because of a shortage of capacity. Re-registered as VH-EAO, it served under the appropriate name Southern Prodigal. In March 1961, QEA re-purchased the aircraft and operated it for a further two years until finally disposed of on 5 March 1963 to California Airmotive as N86682.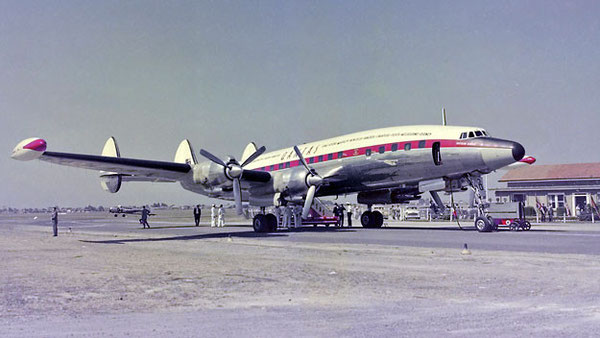 QEA First Round-the-World Service - 1958

  Qantas Empire Airways Lockheed L1049G Super Constellation VH-EAO Southern Aurora outside the International Terminal at Melbourne/Essendon in January 1958 in readiness for the inauguration of QEA's Round-the-World service. Along the fuselage, the aircraft carries the names of all the stops en route: Nadi; Honolulu; San Francisco; New York; London; Rome; Athens; Karachi; New Delhi; Bangkok; Singapore; Djakarta; Perth; Melbourne; Sydney.
Essendon's rather basic 'International Terminal' was the former Aero Club building (the Royal Victorian Aero Club had moved to the new Moorabbin aerodrome). Outside the Terminal can just be made out the national flags of the en route stops, set out in readiness for the farewell ceremony. On 14 January the Premier of Victoria, (Sir) Henry Bolte cut a ribbon attached to the westbound Southern Zephyr while the wife of the Minister for Civil Aviation, Mrs Paltridge, did the same for the eastbound Southern Aurora. The two aircraft were timed to arrive in London within a few hours of each other, and then complete the round-the-world circuit. The total flying time was about 128 hours.