PAN AM  Flight 50
New York to London, 1952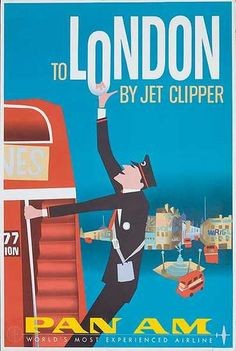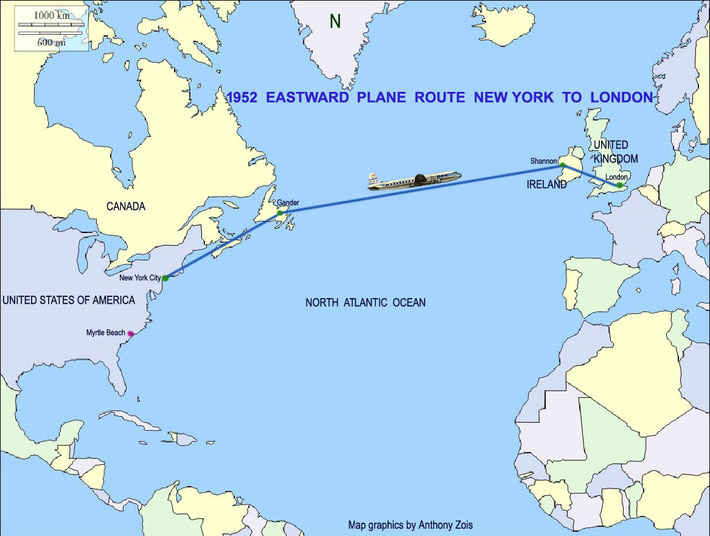 -88 seats
-315 mph
-107,000 lb. max. gross take-off weight
-3000 mile range
-4 Pratt & Whitney Double Wasp  R 2800 Engines.
-106ft Length
-29ft Height
-118ft Span
In September 1950, Pan Am ordered 45 Dc-6s. All of these were delivered by June 1954. 
The first one to enter service was the Clipper Liberty Bell May 1, 1952. The DC-6 worked the New York-London route.
These were replaced with Boeing 727s.
An agreement was finally reached, after Pan Am threatened to leave IATA and go it alone. From the 1st May 1952, airlines could offer a reduced fare for a reduced service. In the end, it was the lure of thousands of American tourists and the much-needed dollars that they would bring that swayed decision. Most airlines were state owned and governments took an active interest in the decision being reached.
The new service was "Tourist" class. Tourist fares were up to thirty percent cheaper than the Ordinary (First Class) fares. This meant that an off-season return ticket went down from 254 to 173 13s. In today's money, these fares would be 4496 and 3062 respectively - not exactly cheap. It would have meant the choice between a new car or a holiday in the USA, even for well off families. Not surprisingly, tourist class travel was still only for the privileged few. However, it did have a dramatic increase in the numbers flying showing that there was a huge pent up demand for flights if the price was affordable.
To offer the reduced fares, the airlines had to offer passengers considerably less comfort than first class. There were fifty percent more seats on the plane than in a typical first class layout. All "frills" expected in first class were removed from the service. Passengers were expected to pay for all meals and there were no alcoholic drinks served, either complimentary or to buy. Journalists, given a chance to sample the new tourist class fares in one of the first flights across the Atlantic on Pan Am's "Liberty Bell", found the food expensive. The meal served on this flight - beef, peas and potatoes, two rolls and butter, two pastries and coffee cost $1.75 (12s 6d). At the time, a similar meal would cost only 4s on the ground. By contrast, BOAC was offering a full  four-course dinner for 10s 6d on their tourist service.