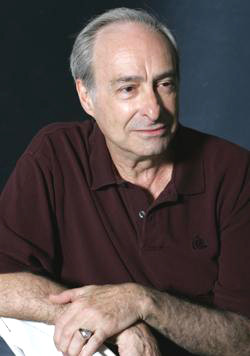 Born : 16th February, 1933

Died : 25th January 2022 ( 88 yrs. old )
Nationality : American
BALLET MASTER

Donald Mahler came to know of Baba through his teacher and mentor, Margaret Craske in the 1950s while studying ballet. He met Meher Baba in 1956, 1958 and again in 1962. Donald, affectionately dubbed 'Donald Duck' by Baba, had the wonderful opportunity to be one of the dancers that carried Baba in a special chair at the Meher Spiritual Center in Myrtle Beach.
When Baba, very abruptly in Dehra Dhun in 1946, sent her back home, and she began her career with Ballet Theatre, His significant words "Your dancing is Mine" came true. Gradually a small group of dancers came to hear of Him through contact with her, and came to meet Him in 1952 in Myrtle Beach. She never "pushed" Baba on anyone, but let them seek her out. "I let them knock hard on my door," she says.
Some well-known ballet stars have become close Baba lovers, such a Tex Hightower (featured in the movie, Carousel); Don Mahler, now in charge of the Metropolitan Opera Ballet Company; Bunty Kelly, top dancer in the musical Brigadoon, now teaching at Adelphi College; Peter Saul, in charge of dance at Cornell U.; Marie Adair, in charge of ballet at Sarah Lawrence, and others.
In 1956, they gave a special ballet performance for Baba in the Barn at Myrtle Beach; and you can see them in the old 1958 movies carrying Baba about in His special chair.
THE AWAKENER, Vol. XX, No. 2, pp. 22-23
Peter Saul, Viola Farber, Jean Cebrun, Marie Adair, Joe Fabian, Charles Hightower, Skipper Damon, Bunty Kelly, Naomi Westerfelt, Cynthia Mays and Zebra Nevins all performed for Baba. They danced several numbers for him, both solos and duets. It was as if the walls of the Barn faded away, and the space expanded. Another dancer, Donald Mahler, had come from Canada and served as stage-hand.
After one number set in the 1920s, Skipper Damon gave Baba her cloche hat, and he put it on. Baba embraced Margaret Craske and each of the dancers, and also Don Stevens. He said, "I am pleased by this performance of my lovers, done with love for me."
The group afterwards said that they had never danced as they danced that afternoon.