1958 : USA Visit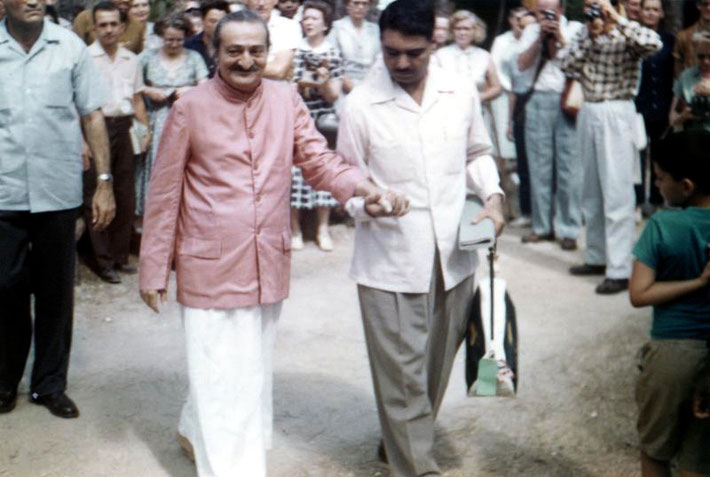 ROUTE TIMETABLE
17th May 1958
Arrived    :   New York City      9:30 am ( from Gander, Canada )
Departed :   New York City     10:50 am  on National Airlines flight 325   
1st stop   :   Philadelphia, Pennsylvania

2nd stop  :   Washington D.C.
3rd stop   :   Richmond, Virginia   
4th stop   :   New Bern, North Carolina
5th stop   :   Wilmington, North Carolina     Arrived  : 3:30pm  - then motored to Myrtle Beach
                                                                                                          along Highway 17.
Arrived    :    Myrtle Beach, South Carolina
NEW YORK  to  MYRTLE BEACH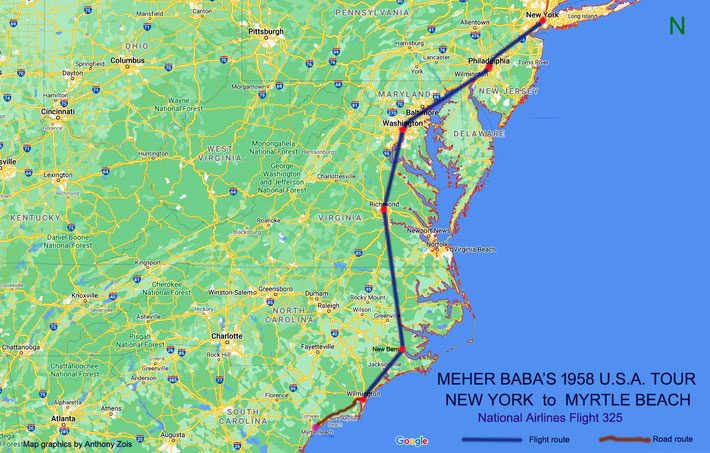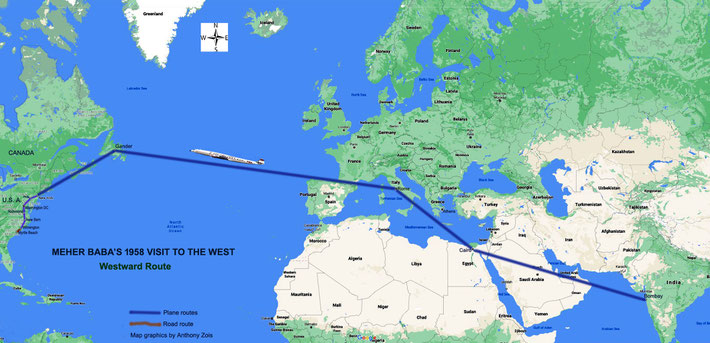 MYRTLE BEACH CENTER, STH. CAROLINA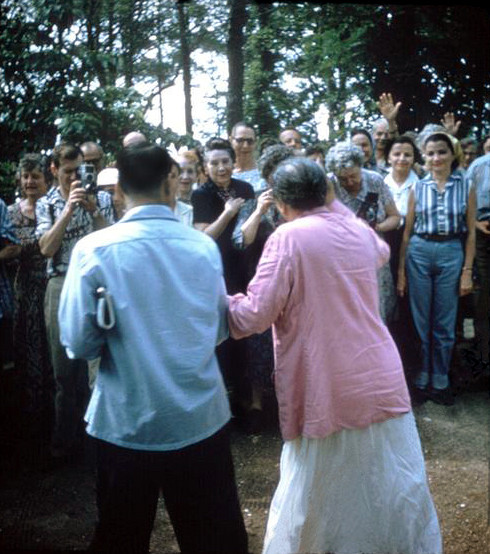 In the Meher Center compound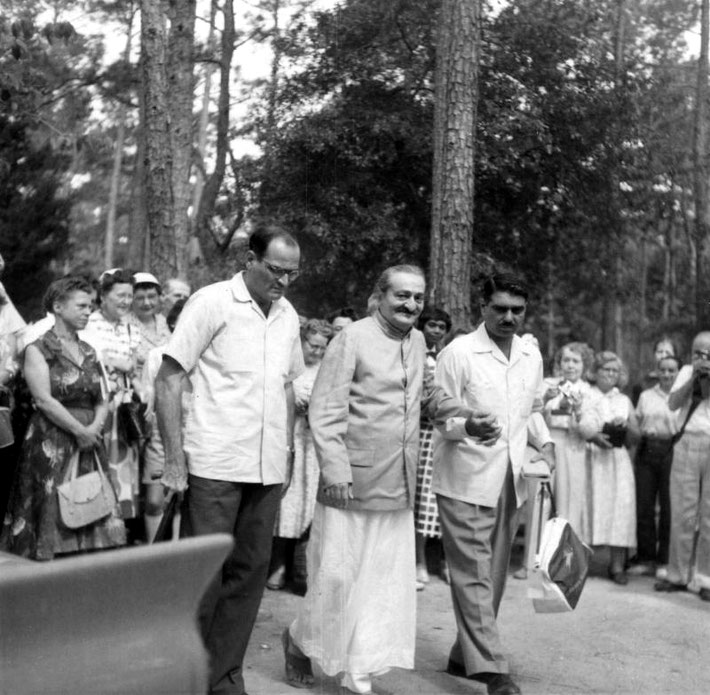 MYRTLE BEACH to  WASHINGTON D.C.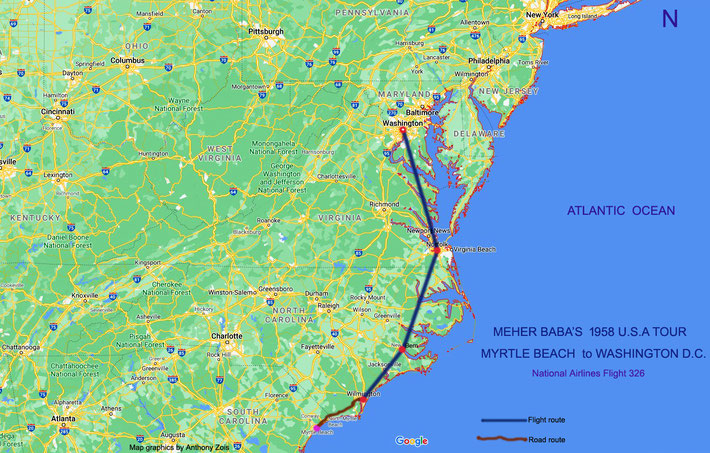 1958 : List of attendees to the Meher Center in Myrtle Beach, S.C.
Name lists courtesy of Lord Meher On-line
Adair, Marie - New York City
Al Faqih, Aida -

Lebanon

Alvarado, Helen - Calif.
Alvarado, Herman - Calif.
Alvarado, Magdalena - Calif.
Alvarado, Sandra - Calif.
Andriani, Mary - New York
Bahjejian, Zaronhi - NYC
Baron, Agnes - Ojai
Barnum,

(daughter)

Helen - Virginia
Barnum,

(daughter)

Dora Jean - Virginia
Barnum, Mrs. A. J.

(Dorothy)

- Virginia
Bass, John - NYC
Belote, Sparkie Lukes - Virginia
Ben Shammai, Carrie -

Israel

Berry, Florine - Florida
Bevan, Christobel - Mexico
Bird, Joyce B. -

England

Blake, Joseph - South Carolina
Boone, Amie A. - S. Carolina
Bradbury, Edith - NYC
Brockmeyer, Eva M.

(twin sister of Evea Solomon)

- Indiana
Bryan, Jim - Florida
De Buday, Cameron - NYC
De Buday, Pia - NYC
De Buday, Tanit - NYC
Campen, Jean -

Paris

Campen, Marvin -

Paris

Carpenter, Chip - Myrtle Beach
Carpenter, Virginia & 2 sons - Myrtle Beach
Carvalho, Bernie - Washington DC
Cebrun, Jean - NYC
Chace, Ruth - Calif.
Chamberlain, James Allen - Houston
Clark, John - Florida
Coates, Eileen - Myrtle Beach
Cohen, Sam - NYC
Corfe, Enid - NYC
Corrinet, Charmian - NYC
Cox, Janice - N. Carolina

(only 2 days; daughter of Eileen Coates)

Craske, Margaret - NYC
Damon, Cathryn - NYC
Davy, Kitty - Myrtle Beach
DeBlasio, Theresa - NYC
DeGray, Julian - NYC
DeLavigne, Laura - Myrtle Beach
DeLavigne, Lee - Myrtle Beach
DeLong, Hilda - Florida
Delong, Leland - Florida
Delong, Sylvia - Florida
Dimpfl, Claudia - Calif
Dimpfl, Diane - Calif
Dimpfl, Joan - Calif
Dimpfl, Lud - Calif
Donaldson, Elsie - NYC

(dancer and friend of Margaret's)

Drake, Daphne - Ohio

(Elizabeth's niece)

Duce, Ivy - Calif
DuFresne, Stella - NYC
Eaton, Bili - NYC
Eaton, Frank Jr. - Myrtle Beach
Ellsworth, Mr. & Mrs. Kenneth
Fabian, Joe - NYC

(one of Margaret's dancers)

Farber, Viola - NYC
Ferenz, Stella - NYC
Field, Dana - Calif
Fisher, Faye - NYC
Florsheim, Harry - NYC
Florsheim, Marion - NYC
Foote, Dorothea - Wash DC
Foote, Ned - Wash DC
Frederick, Filis - NYC
Frese, Clara - NYC
Frey, Carolyn - Calif
Frey, Fred Jr. - Calif
Frey, Malcolm - Calif
Frey, Tara - Calif
Frey, Tory Ann - Calif
Gaines, Sylvia - NYC
Galor, Richard F. - Maryland
Garbade, Rose - NYC
Ginsberg, Anne - NYC
Gloor, Deirdre - NY
Gloor, Virginia - NY
Graham, Jessie - Myrtle Beach
Graham, Kathryn - Florida
Grauer, Evelyn - NY
Gregoire, Miriam - NYC
Harb, Joseph - Calif
Harb, Kari - Calif
Hard, Delores - S. Carolina
Hartshorne, Harry - Wisconsin
Hassen, Selma - Oklahoma
Hayman, Ben - Texas
Haynes, Charles - Myrtle Beach
Haynes, Jane - Myrtle Beach
Haynes, John - Myrtle Beach
Haynes, Wendy - Myrtle Beach
Healy, Warren - Seattle
Hendrickson, Margaret - NY
Hernandez, Bob - Florida
Hernandez, Libbie - Florida
Hernandez, Ralph - Florida
Hernandez, Rickie - Florida
Hernandez, Stella - Florida
Hightower, Tex - NYC
Houston, Muriel - Myrtle Beach
Hutchins, Dr. Arnold & Mrs. Violette - N. Carolina
Inabinett, Marguerite - S. Carolina
Ivory, Bernice - NYC
Jansson, Alf - Maryland
Jansson, Verna - Maryland
Karrasch, Annarosa - NYC
Karrasch, Larry - NYC
Kashouty, Henry - Virginia
Kashouty, Kecha - Virginia
Kelley, Bunty - NYC
Kenmore, Harry - NYC
Kenyon, Mrs. Teddy - Conn.
Killian, Hilda - Wash DC
Kohanow, Ann - NYC
Kohanow, Michael - NYC
Kramer, Mrs. M. - NYC
Kussevich, Marko - NY
Kussevich, Stella - NY
Kyle, Mildred - Florida
Lamour, Emma - NY
Lane, Joseph - Washington DC
Lawton, Dawn -

Wales

Lawton, John -

Wales

Levy, Dorothy - NYC
Locke, Gladys - S. Carolina
Loftus, Mike - Maryland
Long, Lois - S. Carolina
MacDonald, Daphne - Calif
Mahler, Donald - NYC
Mahon, Barbara - N. Carolina
Marks, Fred -

London

Martin, Sadie - Myrtle Beach
Maugham, Olivia - NY
Mays, Cynthia - NYC
McLean, Lauren - Florida
Mehdy, Etta - Calif
Meisenheimer, Lenora - Myrtle Beach
Mertens, Hedi -

Switzerland

Miller, Mary Jane - Florida
Muir, Andy - Wash DC
Muir, Peggy - Wash DC
Mungo, Emma - S. Carolina
Nelson, Helen - NYC
Nevins, Zebra - NYC
Nichols, Martha - NYC
Parry, Mary -

England

Patterson, Elizabeth - Myrtle Beach
Poley, Marguerite - Calif
Pollock, Marianna - NYC
Price, Biddie Hill - N. Carolina
Prue, Eloise - Calif
Purdom, Charles -

England

Riley, Tom - NYC
Riley, Yvonne - NYC
Ringer, Ruth - NYC
Rogers, Corina - Wash DC
Rogers, Elsie - NY
Roothbert, Toni - Conn
Rossin, Alfred - NYC
Rossin, Susan Sessions - NYC
Roth, Helen - NYC
Royce, Ellison - Wash DC
Rudd, Harold - NJ
Rudd, Raphael - NJ
Rudd, Virginia - NJ
Sacalis, Liz - NY
Sanborn, Harriet - Florida
Saul, Peter - NYC
Schulman, Charles - NYC
Sessions, Mrs. Lee - S. Carolina
Shaw, Aaron - NY
Shaw, Darwin - NY
Shaw, Helen - NY
Shaw, Jeanne - NY
Shaw, Leatrice - NY
Shaw, Lowell - NY
Shaw, Norine - NY
Shaw, Renae - NY
Shore, Marie

& 2 children

- NY
Smith, Eleanor - Calif
Smith, Elizabeth - S. Carolina
Smith, Joanna - NYC
Smith, Wanda G. - Florida
Snow, Mary Doreen - Maryland
Solomon, Evea - NYC
Sprinkle, Donald - NYC
Stevens, Don - NJ
Stevens, Dorothy - NYC
Stover, Wilma - NYC
Thorpe, Hilda -

England

Thorpe, Simon -

England

Timur, Kenneth - NYC
Troegel, Otto - Florida
Troegel, Ruth - Florida
Turner, Mr. & Mrs. Charles C.

& 2 children

Vanderbogart, Mrs. Larry - NY
Vieillard, Anita -

Paris

Webb, Helen - Calif
Weller, Loretta - Florida
Weller, Ted - Florida
Westervelt, Naomi - NY
White, Ruth - Myrtle Beach
Williams, Benita - NYC
Williams, Beryl - NYC
Willoughby, Mr. Leonard & Mrs. Dulcina - NY
Winterfeldt, Ella - NYC
Winterfeldt, Fred - NYC
Wise, Christine - Wisconsin
Wolkin, Adele - NYC