THE MEHER MESSAGE - MONTHLY
  AHMEDNAGAR,MS.,INDIA
Editor : K.J.Dastur

1st Issue : January 1929
Final issue : November 1931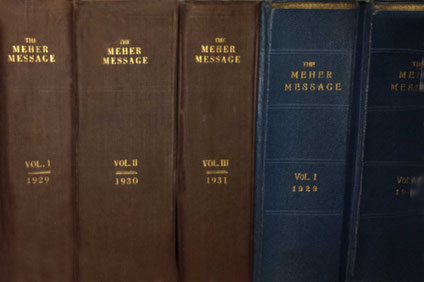 The B/W covers shown are photocopies of the actual covers.
This was the first regular periodical about  Baba.  It was first issued in 1929 and was published monthly until  its discontinuation in 1932.  In the Meher Message, Meher  Baba gave some of  his earliest and  most esoteric discourses. Almost every month there was a new discourse of  Baba's ranging from the detailed mechanics of the universe, to the evolution of human souls from other planets onto our unique earth.
The magazine was sustained not only by subscriptions but also by advertisements, including full page ads for Sarosh Irani's Motor Works.
Courtesy of Meher Baba Library - Los Angeles, CA.
http://meherbabalibrary.com/babalist/list_m/lib_m_meher-message.html
To read individual issues click here :
https://avatarmeherbabatrust.org/index.php/periodicals/