WALKING TOUR :  BOMBAY to SAKORI, INDIA

October 19th, 1923

October 19th

They awoke at 3 am and soon began their walk to Sakori.
The men were : Meher Baba, Adi, Rustom, Baidul, Behramji, Burjor, Gustadji, Ghani, Nervous, Ramjoo, Sarosh, Slamson, Vajifdar & Babu Rao. Sadashiv who was in Poona was to join them at Thana.
Vajifdar & Burjor were only going as far as Gatkopar, the destination of the 1st day of walk. Durgabai Karmarker's son Raghunath was also to walk with them to only a certain way. All the luggage was in the bullock cart driven by Baidul. They walked the 7 miles /  to Gatkopar.
Sarosh's brother-in-law Keki Irani requested Baba and his men mandali to come to his home for lunch, made by his mother. Baba agreed.
Keki was a photographer and Baba allowed him to photograph him and the others. The previous photo was one that he took.
Baba only ate a handful of rice and dal once every 24 hours and one cup of tea.
Later that day, Vajifdar and Burjor returned to Bombay.
The next day, 20th October, they left Keki's house at 4 am, in the dark, but they were also holding kerosene lanterns. They hiked the 10 miles /  to Thana and stayed in a dak bungalow. Sadashiv arrived later that night from Poona.
They left Thana the next day 21st October at 5 am and walked 4 miles / , when they came to a river, they hired boats to cross the small river near the village of Kolshet. Baidul & Raghunath had taken the cart on the road around the river. Once Baba had crossed the river, they went on the Bombay to Agra road towards Bhiwandi, which they later reached and stayed in a dak bungalow. Raghunath was sent ahead to Sakori, he was too slow and unattentive to Baba.
Food had been planned to arrive to feed everyone, which was coming from the town, but it was extremely late. Baba became upset with the lateness and at 5 pm Baba stormed off from Bhiwandi for the village of Padgha some 10 miles / away. The men went after Baba with Baidul & Ramjoo staying behind to get the food and bring the cart. When they arrived in Padgha, Baba and the men stayed in a rest house Baidul & Ramjoo arrived later withe cart.
Ramjoo's Diaries p. 239
Lord Meher Vol. 2  p.560-3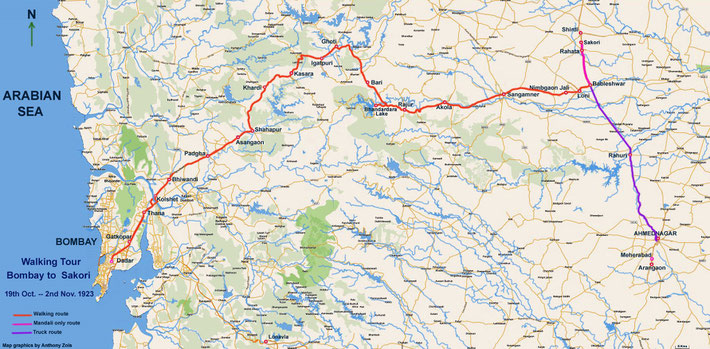 October continued ....

The next day, 22nd October, they set off at 4 pm for Shahapur, 11 miles / 17.7 kms away.
They arrived at Asangaon at 8 pm, only 8 miles / 12.9 kms in 4 hours and they were exhausted because of the rough road. They stayed the night on the Asangaon Railway platform. It was a very noisy and busy station. They didn't get much sleep !

On the 23rd October, they left in the morning and reached Shahapur within half an hour. They rested and ate and at 2:30 pm, Baba sent the slow walkers to go with Gustadji for Khardi about 10 miles / 16 kms away. Baba and rest of the men left at 3:35 pm and soon they caught up to the slow group. Baba's group reached Khardi at 6:40 pm and again stayed at the town's nearby railway platform. The slow group arrived later.
The next morning at 4 am on 24th October, Baba and 11 men left Khardi for Kasara. Here the real ascending the Ghats mountain range began. The cart had to be pushed from behind, it was hard-going. When they arrived in Kasara, they stayed at a dharmshala. The men were very tired and Baba decided to stir them all up about their weaknesses, etc., which upset some of them. Kasara is 1,028 ft above rea level. Rustom was sent by train to Igatpuri to arrange for food for the following day when they arrive and he then returned after a couple of hours.

The following day, 25th October, they woke up very early, 2:30 am and left Kasara an hour later and within a short walk, they encounted a very steep hill, where the men had to push the bullock and cart for 2 miles / 3.2 kms & 13 miles / 21 kms later, they arrived at Igatpuri ( is 1,000 feet higher than Kasara ) at 8:45 pm. They went to the dak bungalow. At 4pm, Baba wanted to go to a nearby lake, but no-one wanted to go. So they stayed, Baba seemed to get upset, he told all the men, not to talk to him. This paved the way for Meher Baba keeping silent with the mandali.

** Ramjoo's Diaries stated the the distance from Kasara to Igatpuri was a total of 13 miles / 21 kms.   p.249
On the 26th October, they got up at 6 am. Baba was still keeping silent and conveyed messages through Beheramji. A village cobbler arrived and repaired their sandals. They left Igatpuri at 4 pm, they reached Ghoti 5 miles / 8 kms later. They went to the railway platform to rest. They decided to visit Bhandardara Lake before going to Sakori. They arranged for Mr. Aziz Ahmed, an ass. engineer at the works and a devotee of Baba, to take them from Bari to Bhandardara, a distance of 5 miles / 8 kms, the nex day.
Ramjoo's Diaries p. 239-55
Lord Meher Vol. 2  p.564-70

The next day, 27th October, they left Ghoti & the Agra Road at 3 am for Bari, some 14 miles / 22.5 kms away. Ramjoo was sent ahead to greet Mr. Aziz. They met Mr. Aziz with his car and after breakfast for all, they left 6 in the car and rest in a tonga for Bhandardara, Baidul drove the tonga & Mr. Aziz's driver the bullock cart after them. Baba and the men arrived at 1:30pm. and had a meal. The dam wall being constructed was 263 feet / 80 metres at the lake, was nearing completion after 15 years of construction. The wall needed to add another 7 feet / 2+ metres more for completion and had a foundation breadth of 233 ft / 71 metres. They took a small cruise by a steam launch. After this visit, they returned that evening to Bari.

Early morning of 28th October, they left Bari for Rajur, a 14 miles / 22.5 kms hike.The bullock was very tired, so Baidul drove it empty to Rajur, while their things were put onto a carriage supplied by Mr. Aziz. The carriage was returned upon arrival. When they arrived they stayed in a rest house.
They left the next day 29th October, at 4 am, the bullock cart was carrying their things, reaching Akola at 7 am, having walked 13 miles / 21 kms in 3 hours. They stayed at a bungalow. They had sweets and coffee for breakfast. Later, they hired a cook from the village to assist with the meals. Then they rested again.

The Perfect Master Sai Baba's ( one of ) Master was from this village - "Swami of Akola" aka 
Shri Swami Samarth Kendra Ramdaspeth Akola.
The other Perfect Master Narayan Maharaj had met him also when he was a young sadhu wandering in Akola.
Ramjoo's Diaries p. 239-55
Lord Meher Vol. 2  p.564-70
October continued...

They left Akola on 30th October at 3:30 am, their 12th day of their walking tour. After walking 5 miles / 8 kms they stopped by a river near the village of Kalas.They walked to Sangamner(e) covering 14 miles / 22.5 kms which was mostly flat ground and after their meal they arrived at Nimbgaon Jali(ka) at 9 pm, staying at a dak bungalow. They covered a total of 26 miles / 41.8 kms in that day.
After breakfast on the 31st October, they left for Bableshwar at 10 am. Stopping for a short rest at Loni, during the hottest hours of the day, later they reached Bableshwar before sunset, staying at a bungalow at an intersection of 4 roads. Baba asked the men to observe a fast from that night till they meet Upasni Maharaj the next day.

The following day, 1st November, the men mandali left for Sakori at 4 am, some 10 miles / 16 kms away. Baba stayed with Slamson in Babaleshwar in the bungalow, the men were given instructions to give the bullock and cart to Upasni's disciple Yeshw(v)ant Rao.
Baba decided to truck their belongings to Ahmednagar. A motor lorry was hired. At Rahata ( Rahta ); Padri, Vajifdar and Burjor had arrived by train as per Baba's instructions, met the men on their way to Sakori.  They finally reached Sakori after a 14 days walk and covering nearly 200 miles / 322 kms. After washing themselves, they went to take Upasni Maharaj's darshan, whilst he was confined in a small bamboo cage for the past 10 months.
He was not happy to see the men. He was scathing and abusive to them all. He said to them, "You no-goods have put me in a cage and yourself go about from place to place. Have you obliged me by walking 200 miles ?" Then said, "Keep to what you are doing under instructions of whoever is your somebody", also, "Go as soon as possible back to where you have got to return".

Upasni agreed to give his blessings to them but only when they were at the compound gate and to leave Sakori at once after Durgamai served them tea. They were given some food as well. They returned by foot back to Babaleshwar after sunset. The men reported to Baba was transpired with Maharaj. Baba explained to them the actual meaning of what happened.

The next day, 2nd November, the lorry arrived at 6:30am, it had seating for 14 people, they goods were loaded on top. They set off for Ahmednagar which was 45 miles / 72.4 kms away.
The truck broke down at Rahuri village. After the damaged engine part was replaced, an hour and a half later, with the village crowd pushing their truck to start, they resumed they journey. They reached Ahmednagar at 2 pm and were put up at Khushru Quarters. A meal awaited them provided by Rustom's family. Babu Rao & Sadashiv were instructed to departed for Poona that evening by train.
Thus concluded the walking tour from Bombay.
Ramjoo's Diaries p. 256-61
Lord Meher Vol. 2  p.569-71