TRAIN TRIP - BOMBAY TO SHOLAPUR
                     & back to near  ARANGAON

November 1923

When they arrived in Bombay on the 24th November, Meher Baba had given instructions to his men mandali ; Nervous, Padri & Slamson were to stay in Bombay. Adi and Masaji to go to Ahmednagar, while Baidul and Beheramji went to Poona.

Meher Baba left for Lonavla on the 25th November, by Poona Express train, with Gustadji, Dr Ghani and Ramjoo. Baba and Gustadji got off at Khandala so as not to be recognized by anyone in Lonavla. Ghani and Ramjoo preceeded to Lonavla and borrowed Abdul Tayab's car to come back and pick up Baba, whom they met walking along the roadway. They then drove to a bungalow at Valvan. Soon afterwards, Baba found a potential place nearby to stay for his seclusion work, but he wanted it rent free for a month or so. Abdul went to Bombay to persude the owner to loan it. He later telegramed Baba stating that the owner wanted to stay there himself during the same period.
Ramjoo's Diaries p. 274 - 275
Lord Meher Vol. 2  p.582 - 583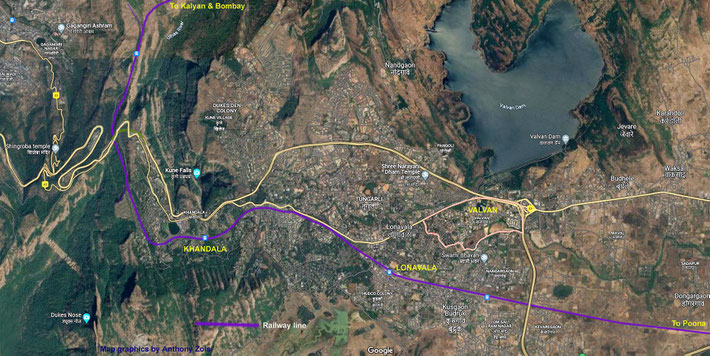 November continued...
On the 29th November, went to Lonavla Railway station and took the train to Poona at 8:30 pm. When the train arrived at Poona station on the 30th November, Beheramji joined Baba and Gustadji and they took the train to Sholapur, travelling in a packed 3rd class carriage. They arrived at midnight and spent the night on the platform after some harassement by police and station staff.
At sunrise, 30th November , they hired a tonga and toured the city in the hot sun until 1 pm, when they then went to a traveller's bungalow to rest. At 5 pm they went to the railway station and bought rail tickets to Akolner, near Ahmednagar, this deplited their money. They left Sholapur and arrived at Dhond at 4 am, 1st December and changed trains for Manmad. They later reached Akolner. Baba had sent Beheramji to Ahmednager to fetch Rustom and to bring him, which he did and they arrived that night with food as well. They spent the night on the station platform.
The next day, 2nd November, Baba was not pleased with the place and decided to return to the Post Office building at Meherabad. During the day, waiting for Rustom to arrive, Baba befriended a young lad named Ismail who worked at the station in Akolner. He accompanied Baba and the men to Ahmednager arriving at night and then walked to Meherabad beside the railway tracks, arriving late at night. No one had recognized Baba at all during this time, which was perfect for Baba's seclusion work. They stayed in the Post Office building, Gustadji arrive much later with their luggage on a bullock cart. No one in Arangaon knew that Baba had arrived  after a 6 month absence. A tent was erected with the building and Baba stayed secluded.
Baba had sent Ramjoo a letter explaining all to him on the 5th December. Signed - Merwan.
After a week, Gulmai was allowed to see Baba and her son Adi, who had come days earlier to help out. In the last week of December, Baba went to Poona for a couple of days and stayed at Sadashiv's place in Kasba Peth. Baba held a large darshan with several hundred people coming. Babu Rao brought along an Anglo-Indian seeker named Lewis Charles Nelhams.
When Lewis first saw Baba he thought he was looking at Jesus himself. Baba talked to him privately and told him to remain in Poona.
Ramjoo had received a letter from Baba on the 30th December, detailing his travel plans and telling him to remain in Lonavla after seeing him on the 31st. Signed - Merwan.
Soon afterwards, Baba returned to Meherabad without anyone knowing where he had gone except for a few men. He was still on fast. On the 31st December, Baba came out of seclusion and left for Meherabad for Bombay via the Poona rail line, with Beheramji and Gustadji.  Baba had written earlier to Dr. Ghani and Ramjoo to meet him at Lonavla station when his train arrived on the way to Bombay. When arrived , the men were alarmed by his poor physical appearance from all the fasting, he was a skeleton but he also was also very cheerful. They gave him some cocoa and travelled with as far as Khandala. Baba arrived in Bombay that night and stayed at the Bharucha Building which Vajifdar had rented according to Baba's instructions. Here he maintained his seclusion but curtailed his fasting periods.
This brought the monumentous year for Meher Baba of 1923 to a close.
Ramjoo's Diaries p. 275 - 285
Lord Meher Vol. 2  p.583 - 589